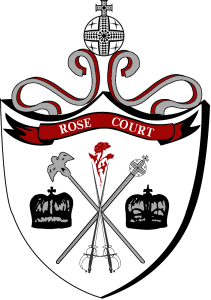 Coronation Protocol
Electronic protocol submission is now being accepted for Portland Coronation
The following protocol guidelines will apply to all court walks:
Styling/Wording:

Please no opening salutations
Please begin protocol only with your city and state/province and your official court name (no acronyms please)
Highest ONE title and/or permanent title bestowed by the Imperial Sovereign Rose Court per courtier, and one walk per courtier, please
Please close your protocol with an invitation to join you for your upcoming coronation or major event
Awards received will not be read in protocol
Monikers will be read for Reigning Heads of State/Prince/Princess/Princex titles only
Formatting:

Please use size 18pt – 20pt font
Please use a bold, easy to ready font (no script, cursive, or emojis) 'Ariel' font is the preferred.
The ISRC Board of Directors and Mistress of Protocol reserve the right to edit protocol. The final decision is that of the ISRC Board of Directors and/or Mistress of Protocol. These guidelines are not meant to stifle your court or individual brand/creativity, rather it is to allow for brevity in the reading of protocol.
Thank you for your help by keeping with the above guidelines mentioned above.
We look forward to seeing you in October!
Kitty KariAll
Mistress of Protocol
Imperial Sovereign Rose Court, Portland, OR